Colleen Coomber
Instrument:

Violin
Master of Music, Violin Performance, University of Southern California
Bachelor of Music, Violin Performance, University of Southern California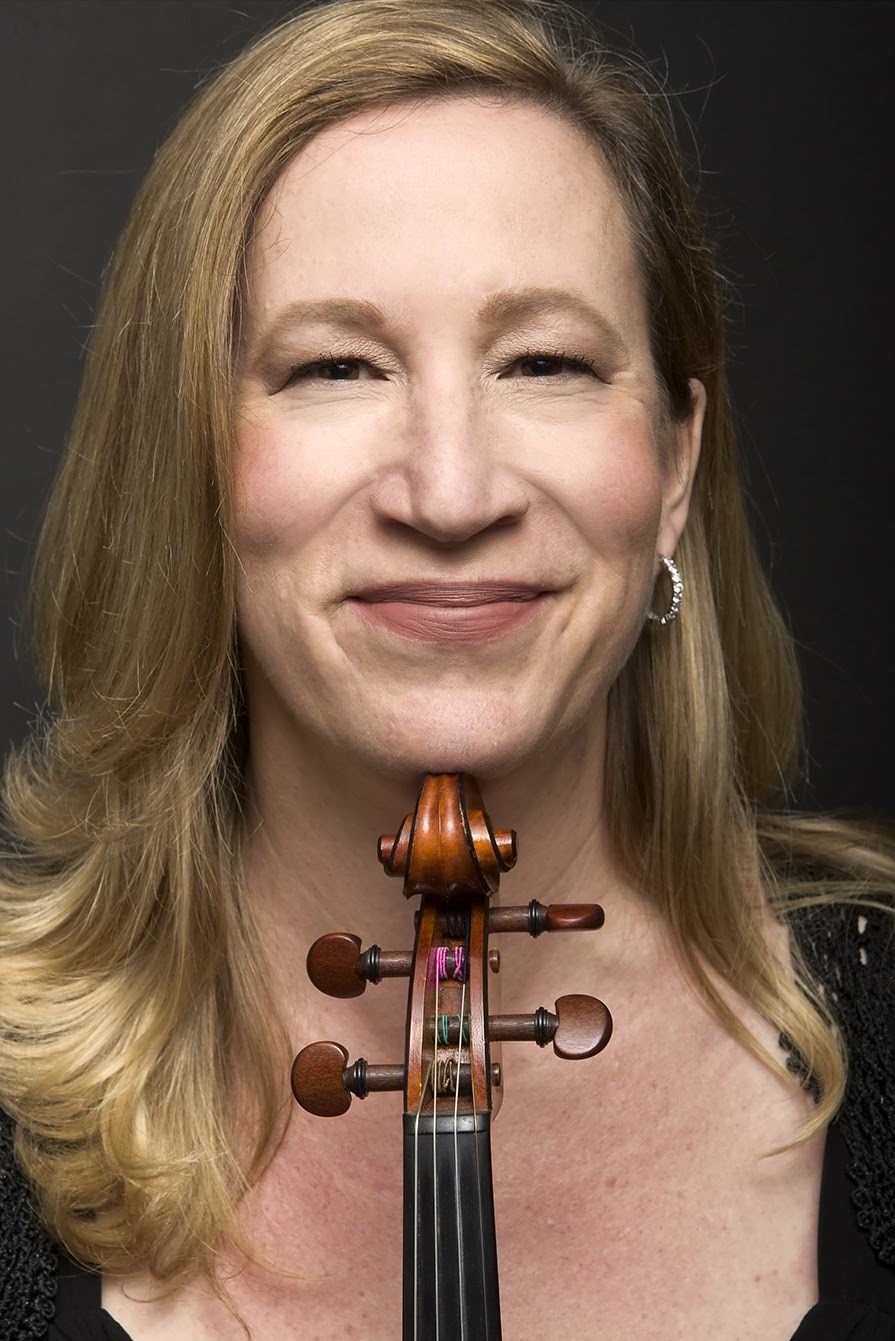 Violinist Colleen Coomber is a native of Los Angeles, California. Ms. Coomber began the violin at age six, studying with Lily Mahler Epstein, Sybil Maxwell and Elizabeth Holborn. Under the tutelage of the late Professor Alice Schoenfeld, Ms. Coomber earned both Bachelor and Master of Music degrees in Violin Performance from the University of Southern California Thornton School of Music. She received orchestral training in the American Youth Symphony and Debut Orchestras, holding concertmaster and principal chairs.
Ms. Coomber is currently a freelance musician in the Los Angeles area, playing regularly with the Los Angeles Master Chorale Sinfonia, Santa Barbara Symphony, and recording in Hollywood studios. She is a member of the Redlands Symphony Orchestra, Opera Santa Barbara, the Downey Symphony as Principal Second Violin, and is Assistant Concertmaster of the San Bernardino Symphony. In addition to private studio, she is adjunct professor of music at Mount Saint Mary's University in Los Angeles, has taught violin at Pomona College, and coaches violin and chamber music for the Burbank Unified and Conejo Valley Unified School districts.
---
CJ Donoho
Instrument:

Violin
Bachelor of Music, Music Education, Azusa Pacific University
Minor in Honors Humanities, Azusa Pacific University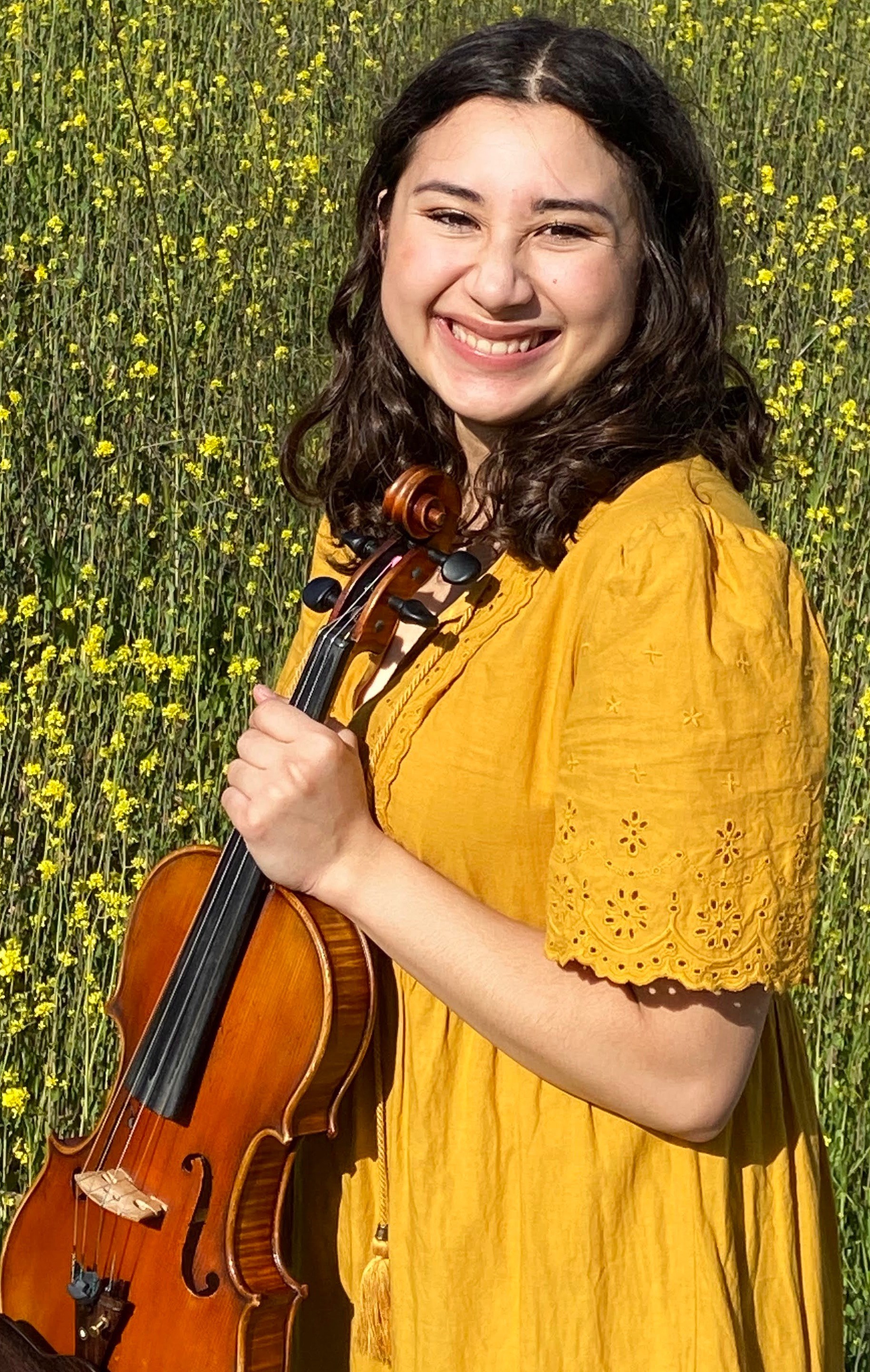 CJ Donoho was introduced to music at an early age, which inspired her to join her elementary strings program on violin. It was her time in ensembles that made fall in love with the language of music, inspiring her to pursue a career in music. Although she grew up in the small town of Big Bear, CJ has participated in a few different orchestras over the years, including the Mountaintop Strings of California. With this ensemble, she had the privilege of performing in beautiful cathedrals and other incredible venues in different parts of Italy, such as Rome, Tuscany, and Lucca. She also had the great honor of playing in Carnegie Hall with Mountaintop Strings, where she had the position of co-concertmaster. In addition to her orchestral work, she has participated in multiple chamber groups and has been a counselor at a chamber music camp in Portland. She has also performed with the Piano Guys twice and, with Mountaintop Strings, opened for cover bands such as Uptown Funk, Led Zepagain, and Desperado.
CJ earned her bachelor's degree in music education from Azusa Pacific University, where she studied under Dr. Alex Russell. During her undergraduate career, she was able to teach privately through the Azusa Conservatory of Music and coach string groups in Big Bear. CJ is in the process of getting her single subject teaching credential in music from APU with the goal of teaching middle school orchestra. She wants to be able to share her love and passion for music with those around her and show students how powerful the musical language can be. CJ is also the current teacher of the Enrichment Orchestra program at Foothill Country Day School in Claremont.
---
Cynthia Fogg
Instruments:

Violin, Viola
Master of Music, University of Southern California
Bachelor of Arts, Sarah Lawrence College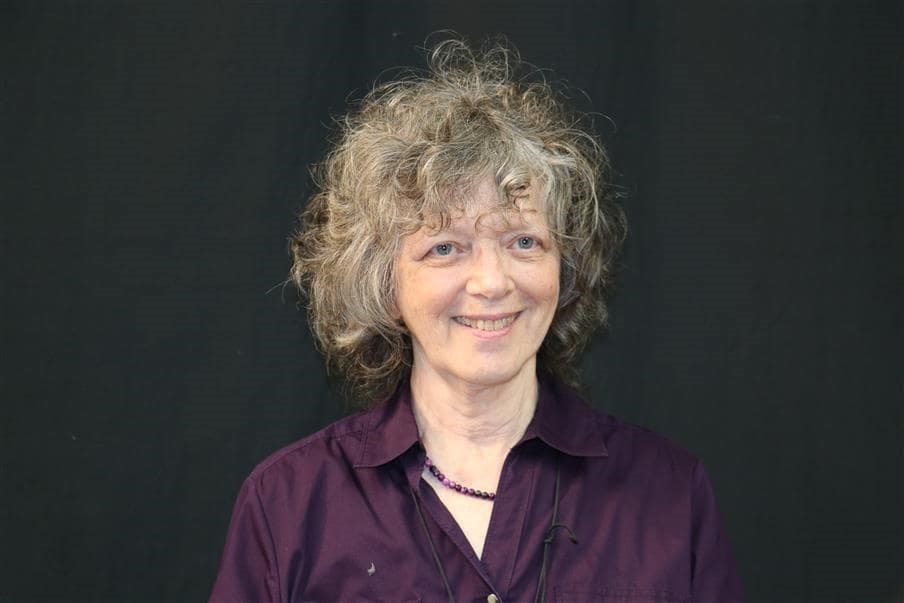 Cynthia Fogg has performed extensively on both viola and violin in the United States and in Europe. She has played with a variety of organizations on both the east and west coasts, including the Pasadena Symphony and Monday Evening Concerts, and has appeared as guest violist with the acclaimed Kronos and Alexander string quartets.
Ms. Fogg is currently a member of Quartet Euphoria, and she and her husband, composer/cellist Tom Flaherty, perform together as the duo Celliola, often premiering and recording new solo and duo repertoire. Ms. Fogg has recorded chamber music for Naxos, Opus One, Cambria, Klavier, Innova, and SEAMUS, as well as soundtracks for television and motion pictures, including X-Files and Matrix. She has performed with various artists including Tony Bennett and K.D. Laing. She holds degrees from Sarah Lawrence College and the University of Southern California, and has extensive training and experience in various teaching methods including Suzuki and Kato Havas's New Approach. Her teachers included Dorothy Delay Leo Panesevich, and Milton Thomas.
Ms. Fogg formerly taught at Longy School of Music, Wheaton College, and Pasadena City College. She currently teaches at Pomona College and Pasadena Conservatory of Music, and Claremont Community School of Music.
---
Rachel Huang
Instrument:

Violin
Doctor of Musical Arts, State University of New York at Stony Brook
Master of Music, State University of New York at Stony Brook
A.B. Radcliffe College, Harvard University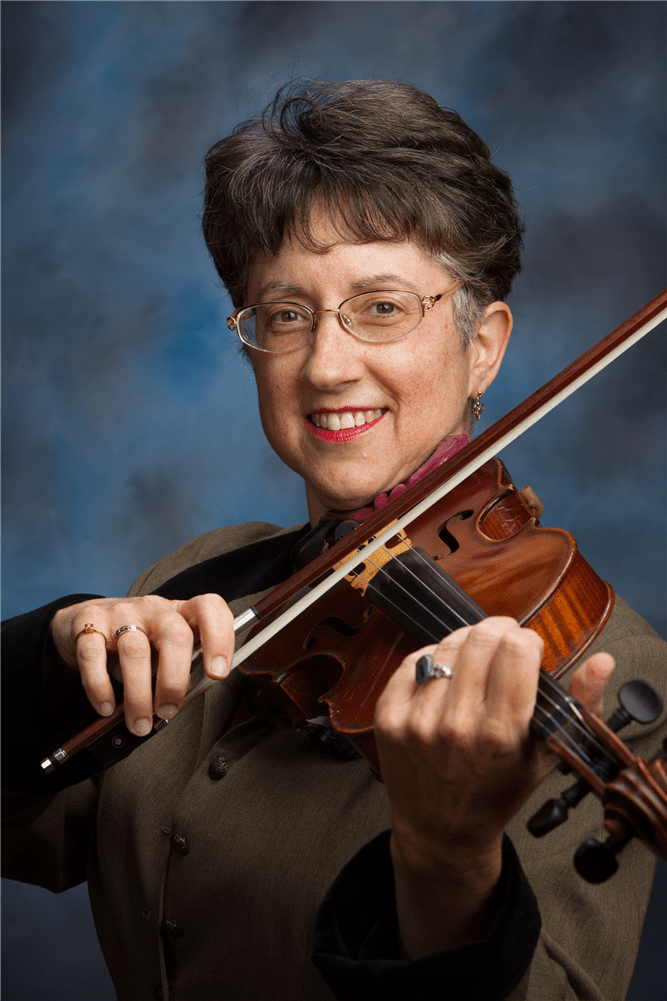 Rachel Vetter Huang holds the rare distinction of being honored by both the National Endowment of the Arts and the National Endowment for the Humanities. She has received NEA grants toward production of chamber music festivals in New York and Colorado, and has enjoyed the privilege of being chosen to participate in an NEH Summer Seminar, the 1989 "JAZZ: A Comparative View" at Yale University, directed by John Szwed. Dr. Huang has been invited to present on the topic of violin-piano chamber music repertoire at state and national conventions of the Music Teachers National Association and the College Music Society. She was selected through international tape auditions to be a featured performer at the 1994 World Conference of the International Society for Music Education. She has concertized extensively on both coasts and in the Far East, from Merkin Hall of the Abraham Goodman House in New York City to Washington D.C.'s Coolidge Auditorium in the Library of Congress to Beijing Central Conservatory Hall.
Huang has appeared as a soloist with the Boston Pops, the Concord Symphony Orchestra and others. She has participated as an American representative in the Respighi Festival in Citta de Castello, Italy as well as on scholarships to the Aspen and Tanglewood Music Festivals. She has been featured on radio broadcasts from WQXR-FM in New York, WGBH-FM in Boston, and on both South and North Carolina public television and radio networks. Her teachers include Dorothy DeLay, Robert Koff and the late Ivan Galamian. Dr. Huang holds degrees from Harvard University and the State University of New York Stony Brook. She formerly served as violin professor for Converse College and the University of North Carolina at Greensboro.
---
Olga Meisel
Instruments:

Violin, Piano
Bachelor of Music Arts, Performance, Togliatti College of Music, Russia
Diploma of Togliatti School of Music, Russia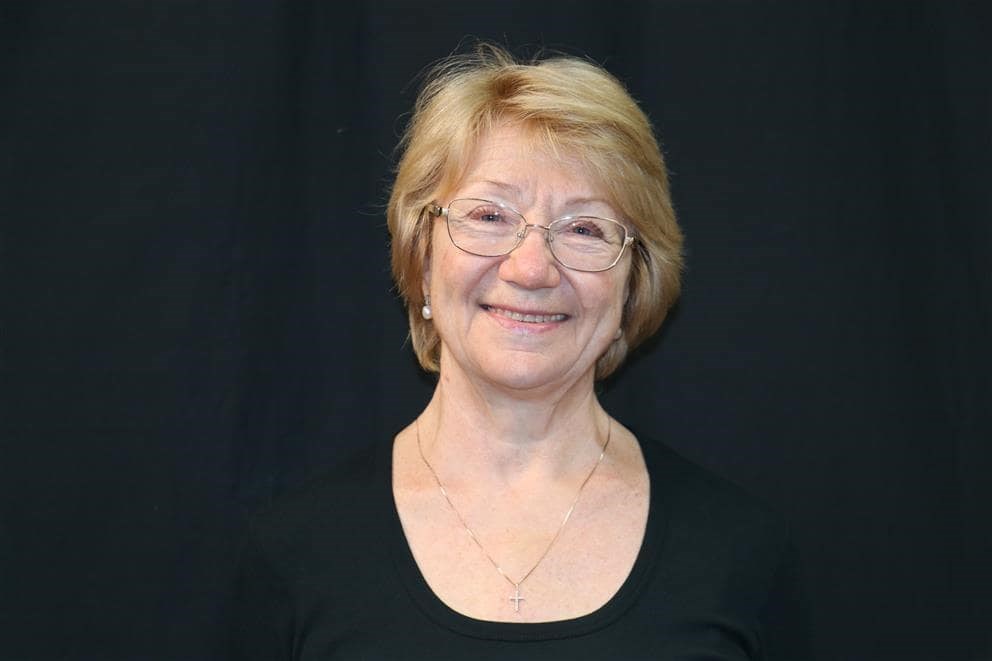 Olga Meisel started her musical pursuit at the age of seven on violin and piano. She has been a violin teacher for 37 years to students of all ages and was nominated as Teacher of the Year, Togliatti, Russia in 1999. She gives local music-school masterclasses. Her students have won city, regional and country competitions in Russia, and she has had many students go on to professional careers in music over the years.
Meisel has participated in a seminar with Larisa Mageramova, Professor of Conservatory (Tasckent); trained with Sergei Kravchenko, Professor of Conservatory (Moscow); and participated in a masterclass with Eduard Grach, Professor of Conservatory (Moscow).
Olga Meisel has played throughout Russia with the Togliatti Philharmonic Orchestra, Togliatti Chamber Orchestra, and the Samara Ballet Orchestra. After relocating to the United States, she became an associate concert meister of the Claremont Symphony Orchestra and has performed as a soloist with Robert Sage, Director of Music Claremont Symphony Orchestra, for a variety of events.
---
Kristin Simpson

Instruments:

Media Composition, Violin

Bachelor of Music, Commercial & Media Composition, California State University, Northridge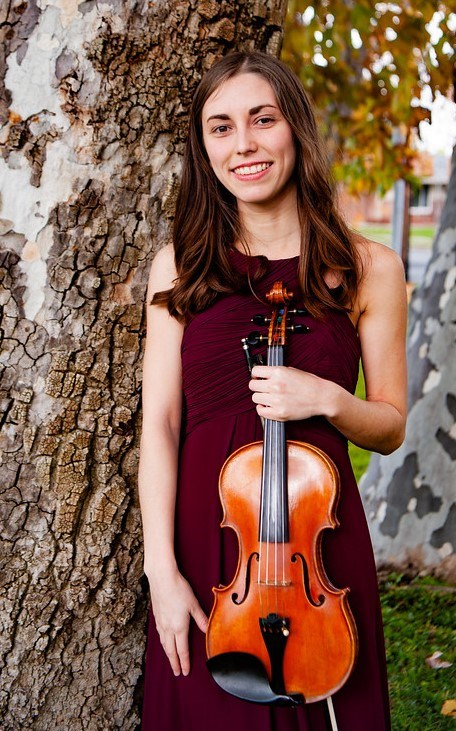 Kristin Simpson is a composer, orchestrator and violinist. She holds a Bachelor of Music in Commercial & Media Composition from California State University, Northridge, where she studied with composer and conductor Elizabeth Sellers. With orchestral music at the foreground of her inspiration during her music studies, Simpson enjoyed two academic seasons with the CSUN Symphony; a season with the Pomona College Orchestra; and a year participating in UC Irvine's chamber music ensembles. She studied violin with Kira Blumberg, Lorenz Gamma and Benjamin Jacobson.
A bold advocate for music programs in schools, Simpson feels especially at home teaching string players one-on-one and in ensembles. Her top priority is to ensure the student succeeds in connecting deeply with the music: something that she believes can be achieved through close-listening and other ear-training exercises. She assists with the Prelude Symphonic Ensemble (PSE) and conducted the orchestra for its premiere of her original piece, Summer Skies, in June 2023.
Simpson orchestrates for major composers in the music industry and writes music for film and other audiovisual media. Her compositions and arrangements have been performed locally in various venues — including Pomona College's Bridges Hall of Music — and have traveled as far as Budapest, Hungary for professional orchestral recordings. She is honored to teach both media composition and violin at the Claremont Community School of Music.

---
Linda Tajima
Instruments:

Violin, Viola, Master Teacher
Graduate Work in Musicology, California State University, Los Angeles
Bachelor of Arts, CA Teaching Credential in Music
Suzuki Long-Term Training, Books 1-10 with Shannon Hawes (Grön), Elizabeth Mills, William Starr, Louise Behrend, Dr. Shin'ichi Suzuki, among others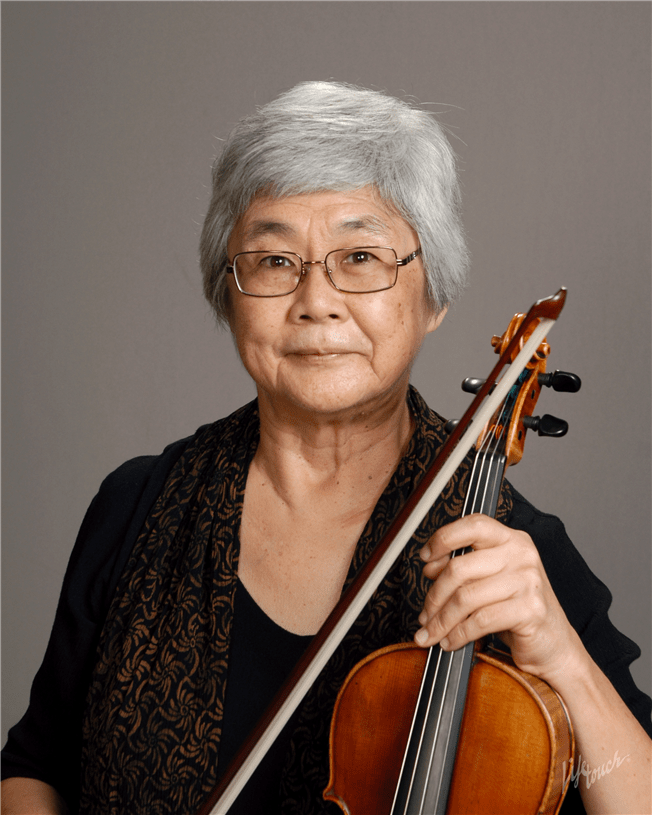 Ms. Tajima has held several positions at CCSM, including, but not limited to, being String Chair, Ensemble Coordinator, and Co-Recital Coordinator with Carol Hendrixson. Ms. Tajima presented groups for the City of Claremont's Concerts in the Park, Fourth of July Celebration, and the Village Venture Street Fair.
One of Ms. Tajima's great passions includes developing special programs for students. The Summer Ensemble Institutes, first held at Cal Poly Pomona and continuing at Scripps College (1998-2003), introduced many students to chamber music. As a result of her teaching instrumental music in the Pasadena Unified School District for five years, Ms. Tajima developed and served as Program Coordinator of the After-School Instrumental Music Program for the Claremont Unified School District (1994-2004). There she organized instrumental music classes at all of the elementary schools for grades 4-8, serving about 400 students annually.
About 10 to 15 students from Ms. Tajima's studio participate in two annual evaluations (NFMC's Jr. Music Festival & MTAC's Certificate of Merit Program), and receive very high marks, whether it is in performance (JMF) or performance, technique, sight reading, theory, and ear training (CM)! Several have performed at the annual MTAC Conventions over the years and JMF Gold Cup/Superior Recitals. One of the programs, STEM [String Theory/ Ensemble/Master Class], was developed to aid students in their performance ability, further studying of theory as it applies to string instruments, and focus on performances dealing with nervousness. Beginning students (Suzuki Volumes 1 & 2) participate in the "Watch Us Grow!" Combined Repertoire and Performance Workshops, which are invaluable for the students.
Another passion that Ms. Tajima shares with her students and others is chamber music! She feels quite strongly that students who participate in small ensembles learn how to work together and form an amazing bond. She currently coaches two piano trios, the Gypsy Trio & Trio con Brio, and a violin quartet. It is such a thrill to see the groups excel year after year!
Other joys include performing solo and chamber music, learning as much as possible about others, striving for high levels of achievement, and helping others when possible. She truly enjoys attending concerts, master classes, and spending time with family and friends. Professional organizations with whom Tajima is affiliated are MTAC, NFMC, and SAA.
---
Wendy Waggener
Instrument: Violin, Master Teacher
Master of Music, Violin Performance, New England Conservatory of Music
Bachelor of Music, Violin Performance, Oberlin Conservatory of Music
Bachelor of Arts, Anthropology, Oberlin College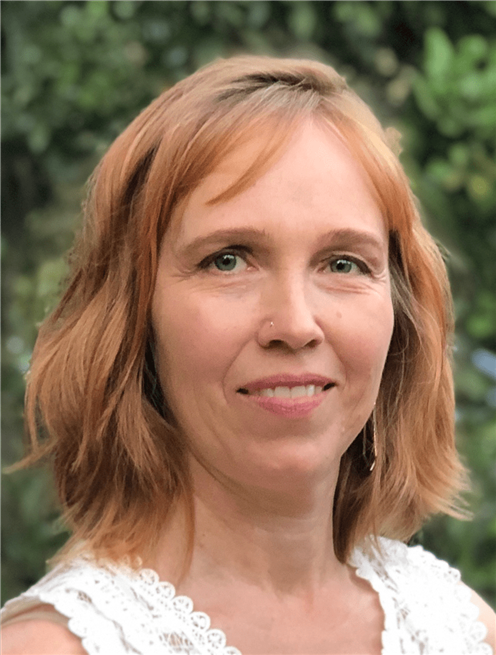 Wendy Waggener earned degrees in Violin Performance from Oberlin Conservatory and New England Conservatory. She maintains a large private studio, in addition to coaching three youth symphonies and freelance performing. Wendy completed her Alexander Technique training with the Contemporary Alexander School with Robyn Avalon in Santa Fe and Midori Shinkai in Kyoto, and has worked with musicians at Meadowmount School of Music, Montecito International Music Festival, Oberlin Conservatory, Cleveland Institute of Music, La Sierra University, and the Colburn School.