Accessibility - Providing quality music education to all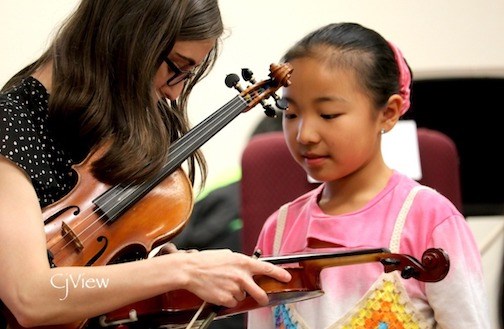 At CCSM, we welcome all students regardless of their backgrounds, ages, (dis)abilities, skill levels, or musical interests. We believe in the power behind the language of music, and are more than happy to assist anyone with a passion to learn the language of music and enjoy the thrill of making music.
In our commitment to inclusivity, we've made it our mission to ensure that our programs are accessible to students with special needs. Our amazing instructors make every effort to work closely with each student to create a comfortable experience to accommodate their unique needs and abilities. We are dedicated to providing essential accommodations and support, with the aim of helping every student learn, express themselves through music, and share their passion with those around them. Our goal is to cultivate an environment where every individual feels valued, respected, and included, not just to learn music, but to be a positive influence for others.
We are grateful for our partnership with AccessiBe, the leading technological provider of website accessible internet technology furthering our mission for music inclusivity in our community.
CCSM is more than just a music institution; we're a vibrant community of music loving individuals who come together to engage in meaningful music-making. Our musicians and teacher-researchers are encouraged to nurture their growth as both artists and educators. We encourage our teachers to explore diverse teaching methods and actively support them in obtaining additional relevant certifications, complementing the degrees they've already earned. This ensures they are well-prepared to provide the best possible music education, enriching the overall learning experience.


What sets us apart is our open-minded approach to all forms of music and musicians. We see every student and teacher as equal musicians, fostering a culture of collaborative learning, teaching, and expansion of knowledge. This flexibility allows us to embrace a diverse range of musical genres, styles, and techniques, ensuring that our students have the opportunity to explore the vast field of the musical world. Our commitment to inclusivity doesn't end with the people who join our community; it extends to the rich tapestry of musical experiences they bring with them. This makes our school a center for musical exploration, a place where cultural exchange and musical diversity thrive.
To further enhance our commitment to inclusivity, we actively work to incorporate a variety of accessible music-making apps and technologies, making music education even more accessible for all. For example, some of these tools include:


GarageBand: A user-friendly digital audio workstation with a wide range of accessible features for beginners and advanced musicians.



Soundtrap: An online collaborative music studio that's great for remote learning and inclusive for students with various abilities.



ThumbJam: An iOS app that offers a unique interface for creating music, ideal for those with limited mobility.



Skoog: A tactile music interface that's perfect for students with physical disabilities.




Jamulus & Jamboxes: An online collaborative tool making live music rehearsal and performance accessible to students world-wide in the comfort of their own home.
Additionally, there are assistive music technologies including adaptive musical instruments to ensure that every student can access and enjoy the world of music.


At our music school, we are committed to providing diverse musical opportunities and pathways for all individuals, regardless of their background of abilities. We believe that music is a powerful force that can unite people and help them discover their true potential. With the dedication from both students and instructors at CCSM, we are able to make music education available to all…one note at a time.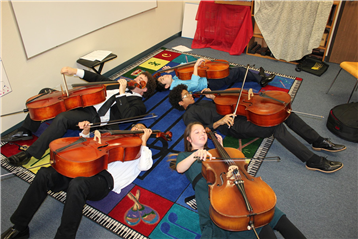 ---
What is Music Therapy?
Music therapy is a discipline that utilizes music interventions to achieve individualized goals encompassing physical, emotional, cognitive, and social objectives. It is inclusive, available to everyone without exclusions. Contrary to common assumptions, musical proficiency is not a prerequisite for participation. Music therapy sessions encompass a wide spectrum, from playing instruments to dancing to music. This therapy comes in two forms: active therapy, where individuals actively engage in musical activities like playing instruments or composing, and receptive therapy, where individuals listen to music and engage in discussions with their therapist.
What does CCSM offer?
CCSM is proud to offer music therapy sessions facilitated by Tarynn Bridges, who is actively pursuing a master's degree in music therapy. Tarynn brings an abundance of experience in working with individuals, particularly children, who have physical, intellectual, and developmental disabilities. Her expertise extends beyond CCSM, encompassing a diverse community both within and outside our institution. At CCSM, our mission extends beyond cultivating a passion for music but also focuses on ensuring music's accessibility to all individuals. In fact, CCSM currently has numerous students with special or accessibility needs.
CCSM does offer private lessons to anyone and everyone including those with physical, mental, or developmental disabilities. Every instructor at CCSM is able to provide the necessary materials in order for students with these conditions for these students to be able enjoy learning the art of music within an one on one environment. W