Homero Chavez
Instrument:

Drums / Percussion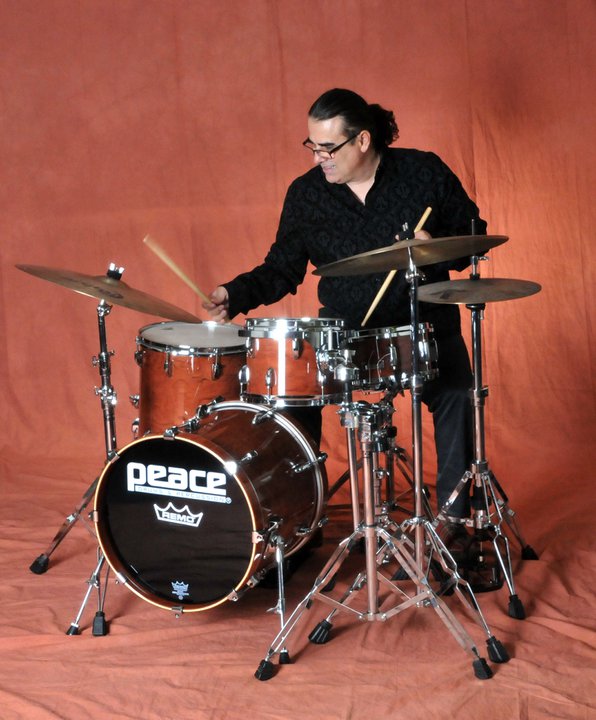 Homero Chavez, born in El Paso, Texas, now resides in Southern California. He is an independent drummer and percussionist known worldwide in the music industry for his professional work as band leader of Hire Gun, as an educator, and as a past president of PAS CA. He is a producer of several live performances as well as recording productions for radio, TV and the internet. The design of his cajon (box) was voted the most ergonomic cajon in the market by Drum Magazine. He has entertained audiences around the globe as an artist, an educator on drum set and percussion, and a clinician/workshop instructor at various music festivals and educational retreats.
Homero currently serves on-faculty at the Claremont Community School of Music, the Claremont Educational Foundation, and the Remo Music Center. His involvement in education extends beyond the classroom to include curriculum and program development targeting youth. His award-winning community programs, The Independent Drum Line and Stomp-Kids, have been embraced by national organizations, including the Boys and Girls Club of America and NAMM. Homero's talents as a teacher and trainer have won over high-profile clients, such as the School of Jazz in Moscow, and are well-known among K-12 and post-secondary institutions at home and abroad. He is one of only 19 certified teacher trainers specializing in the Roots of Rhythm curriculum designed to support classroom teachers in integrating music, music-making activities, and cultural ideas with academics.
Homero is very proud of a number of his students who have gone on to perform not only in the local elementary and high school music programs, but also at Claremont Youth Symphony, Orange County Performing Arts School, colleges in Southern California, the Navy Band at Pearl Harbor, and Carnegie Hall. The local community has recognized him through Program of the Year Awards for his role as an educator, and he was nominated in 2014 for a first-ever Educator's Grammy Award. He has been featured and published in leading music industry publications such as Percussive Notes, Up Beat, Musician, DRUM, Musico Pro, Latin Beat and Modern Drummer magazines, to name a few.
As a sought-after recording artist/educator/performer, Homero has made such notable appearances as the Samsung LPGA Tour Award Ceremony, National Association of Music Merchants (NAMM) Show, PASIC 06, KOSA 08, Moscow Music Expo, and Lincoln Center. His music productions have aired on the radio, internet, and television, and his latest CD El Canto de la Gente has received rave reviews in the United States, Russia and Mexico. Homero's current projects include leading the Latin jazz group Homero y Una Noche, as well as the Mixto Percussion Ensemble.
Homero is a highly-respected professional within the industry, serving two years as President and six years as Vice President of the Percussive Arts Society, California Chapter. He is proud to endorse the following: Remo, Peace Drums, KickStrap, Cympad, KickPort, TRX, Beatnik, Wrist Builders and Futuresonics.
---
Scott Smith
Instrument:

Drums / Percussion
Bachelor of Music, California Polytechnic University, Pomona
Scott Smith has performed in a wide variety of groups over the years, playing everything from classical to rock music. He has performed professionally on drums, keyboard, and voice, both live and on recordings. He has toured the United States playing percussion for musicals and a variety of shows, as well as with the Eastern Sierra Symphony Orchestra. He has played on recordings for many groups, including Alexa's Wish, Network, Dialectics, and the Claremont Winds. As one of the main songwriters for Alexa's Wish, he is featured on many recordings played nationally on radio and television. He was also a co-writer on many songs for a network television show called Fire Rescue.

Scott continues to perform for local musicals, high schools, and churches, as well as with the cover band Magnolia. He is a full-time music teacher in the Covina Valley Unified School District. On the faculty of CCSM, Scott teaches drum set, marching, and classical percussion.

Scott has had many students go on to professional careers in music over the years. One past student is now touring with the band Tears for Fears, whose number one hits include "Everybody Wants to Rule the World" and "Shout". He is also the director of the Sonrise Christian School Steel Drum Band.