Meet the Staff!
---
Matthew Keating ○ EXECUTIVE DIRECTOR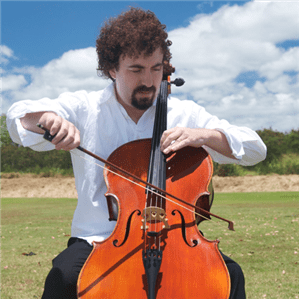 Matthew Keating earned his bachelor's degree in orchestral studies with an emphasis in cello performance from CSUN in 2007 and then attended the Staatliche Hochschule für Musik Trossingen in Germany, furthering education in orchestral conducting and cello performance.
Following graduation, Matthew was accepted as a part-time cellist in the Honolulu Symphony. Matthew also served as a full-time director of the orchestra program at the Punahou School in Honolulu, Hawaii, working with over 500 students in eight different orchestras. Performing with the Honolulu symphony, Matthew toured to the various Hawaiian Islands working with the community and bringing live orchestral performances to unique, non-traditional public venues.
During his time in Hawaii, Matthew also assisted in creating an elementary orchestra program in the local public school district, and worked as an adjunct professor at Hawaii Pacific University.

In the spring of 2011, Matthew and his wife Jessica welcomed Colette, their first daughter, and soon after decided to move back to California to raise a family. In 2015, they welcomed a daughter, Clara.
Matthew began teaching cello at the Claremont Community School of Music in 2012 and became the Executive Director at the school in 2013, where he continues to pursue his passion for music education with students of all ages and backgrounds, working to preserve the arts for future generations.
---
Brian Teuber ○ BUSINESS MANAGER
---
Gloria Cangahuala ○ BUSINESS & DEVELOPMENT ASSISTANT
---
Kristin Simpson ○ OFFICE ASSISTANT TO EXECUTIVE DIRECTOR
---
Karen-Michele Bull ○ REGISTRAR
---
Jean Sielen ○ REGISTRAR
---
Leslie Shaw ○ REGISTRAR