Artemis Bedros, NCTM
Instrument: Piano, Master Teacher
Program: Piano Program


Doctor of Musical Arts, University of Maryland, College Park
Master of Music, University of North Carolina at Greensboro
Diploma from Ecole Normale de Music, Beirut, Lebanon
Bachelor of Arts, Piano Performance, Detroit Institute of Musical Arts
Diploma from Fountainbleau School of Music, Fountainebleau, France
Artemis Belian Bedros (originally from the Middle East) began her musical studies at the age of eight as a scholarship student of Mme. Marie Rieu, the noted pianist and member of the Jury of National Conservatory of Paris. Since her 1981 debut at the Carnegie Recital Hall at the age of eleven, her performances in the U.S. and abroad have established her as a sensitive, brilliant, and exciting recitalist, chamber musician, and orchestral soloist. Jane Zitnick of the Fayettville Observer wrote, "the exceptionally talented pianist, Bedros, gave a performance of the Beethoven Emperor Concerto that was certainly a high point in the symphony's history."

Ms. Bedros holds a Diploma from the Ecole Normale de Musique, Beirut Lebanon, a Bachelor of Music in performance from the Detroit Institute of Musical Arts, and a diploma from Fontainbleau School of Music in Fontainbleau, France. She completed her graduate studies at various universities: the Juilliard School of Music, the University of North Carolina (MA), and the University of Maryland (DMA studies). She has worked with such nationally and internationally-distinguished musicians as Mieczyslaw Munz, Jean Cassadesus, George Kiorpes, Peter Schickele, Nadia Boulanger, and Dr. Stewart Gordon.

From 1980-83, as a Visiting Artist at the Robeson Technical College in Lumberton, North Carolina, Bedros gave over 100 concerts, lecture recitals, radio and television performances and interviews throughout the state. In 1981, she gave her debut recital at Carnegie Recital Hall in New York.

Bedros is a Nationally Certified Master Teacher and has been on the faculties
of the Detroit Institute of Musical Arts, the Robeson Technical College in Lumberton, North Carolin, the St. Andrews College in Laurinburg, North Carolina, and the University of North Carolina where she had a teaching fellowship. Since 1993, Bedros has been teaching at the Claremont Community School of Music.

Bedros is very active in community musical organizations, serving as President of Tuesday Musicale of Pasadena, the Armenian Allied Arts Association, USC Friends of Armenian Music, Music Teachers of California, Pomona Branch, State Vice President of Professional Music Teachers Association, and has held the position of Vice President in charge of Education for Master Classes International, and the Rachmaninoff International Piano Competition in Los Angeles.

Artemis Bedros is listed in various biographical publications including 'Who's Who among American and International Women,' 'Personalities of the Southern and International Who's Who in Music.'
---
Patrick DeJardin
Instrument: Piano
Program: Piano Program
---
Dr. Barbara Durost
Instruments: Piano, Voice
Program: Piano Program
Doctor of Musical Arts, Conducting, Claremont Graduate School
Master of Music Piano Pedagogy, Catholic University of America
Bachelor of Music, Piano Performance, Anna Marie College.
Studied with Robert Shaw, Donald Neuen, Michael Lamkin, Bela Bozormenyi-Nagy, Ney Salgado, and Maureen Egan.
Awarded the J. Merrill Knapp Fellowship from the American Handel Society (1996). Nominated to International 'Who's Who in Music' (1997).
---
Francisca Escobar
Instrument: Piano
Programs: Early Childhood, Piano Program
---
Carol Hendrixson
Instruments: Piano, Accompanist
Programs: Piano Program, Suzuki and Traditional Piano
Bachelor of Arts, Scripps College
Studied piano with Clara Ingham, Lee Pattison, Robert Turner. Training in collaborative arts with Jascha Veissi and Cesare Pascarella. Accompanist and piano instructor at California Institue of the Arts. Suzuki training in United States and Japan with Harlow Mills, Constance Starr, Beverly Tucker-Fest and Mary Craig Powell. Mu Phi Epsilon, International Music Fraternity. Currently an active accompanist and chamber music performer. Member of the CCSM faculty for 30 years.
---
Wendy Kikkert
Instruments: Piano, Voice
Program: Piano Program
Wendy Kikkert has a Bachelors in music with emphasis in piano from Wellesley College, and a Masters of Music in Vocal Performance from CSU Long Beach. She has over 10 years experience teaching private piano and voice, as well as directing choirs. She enjoys teaching students of all ages. She has sung professionally with Los Angeles Opera, Opera Pacific, Long Beach Opera, Pacific Chorale and the John Alexander Singers. She has performed leading roles with local opera companies and musical theater showcases. She was founding member and president of the Intimate Opera Company, producing fully-staged productions for 14 years. In her teaching, she focuses on the strengths and interests of each student, giving individualized instruction. She seeks to give students a foundation for a lifetime of musical enjoyment.
---
Kathryn Lillich
Instruments: Piano, Voice
Hailed as a "world-class vocal talent", soprano Kathryn Lillich is quickly establishing herself as one of the most versatile vocalists in Southern California. Her performances as coloratura soprano and Celtic harpist draw praise from conductors, stage directors, and audiences alike. Most recently, Kathryn debuted at Carnegie Hall as the soprano soloist in Tarik O'Regan's Triptych. Both composer and conductor agreed that hers was "the finest live performance of [O'Regan's] beautiful score."
Her past performances include the leading soprano role of Nannetta in Verdi'sFalstaff,Olympia from Offenbach'sLes contes d'Hoffmann,soprano soloist in Bach'sCoffee CantataandMagnificat in D, Handel'sThe Triumph of Time and Truth, Faure'sRequiem,and "Rose I" in Jonathan Sheffer's contemporary comic operaBlood on the Dining Room Floor.She has performed with NAPA Music Festival, Repertory Opera Company, Claremont's Candlelight Pavilion and as soloist at the American Choral Director's Association convention in Madison, WI. She was the first winner of the "Candlelight's Got Talent" competition and was awarded a full scholarship to NAPA Music Festival.
Kathryn is a student of UCLA's Juliana Gondek and has coached with Richard Zeller, Rakefet Hak, and Eli Villanueva of LA Opera. She has also worked with a number of notable conductors, composers, and stage directors, including Metropolitan Opera's Daniel Beckwith, John Alexander, Robert Istad, Jonathan Sheffer, Tarik O'Regan, and Marc Verzatt of the Yale School of Music.
Kathryn studied music education at Luther College in Decorah, IA. She has studied classical and improvisational teaching techniques, and is committed to an holistic approach to teaching. She brings together theory, anatomy, and musical expression making it accessible to students of all ages. Her students currently perform in the Los Angeles Children's Chorus and have won several local talent competitions.
---
Marna Makau
Instruments: Piano, Organ
Programs: Piano Program, Suzuki Piano, Keyboard Ensemble, Chair
Bachelor of Arts, La Verne College
Graduate work at Claremont Graduate School, Columbia Teachers College, UC Santa Cruz and Riverside
Recreational Music Making for Adults
Traditional piano study with Ralph Travis and Nora Teichmann (Padgogische Hochschule, Gottingen, Germany). Suzuki Training through volume 3 with Harlow Mills, Carol Hendrixson and Bruce Anderson. Pipe organ study with Ralph Travis and Doctor Blanchard. Certification in Level One Orff-Schulwerk approach, Multiple Intelligences and Digital Keyboard Ensemble teaching. Former First grade Teacher/Music Specialist, Buena Vista Arts Integrated School. Teacher of the Year, San Bernardino County, 1998, teacher mentor.
Ms. Makau taught at Machakos Teachers' College in Kenya for 9 years, studied at a teachers' college in Germany one year, and has certification to teach English as a Second Language in California. She also retains a California Teacher's Credential to teach through 8th grade. Ms. Makau was also an organist in several churches over a period of about 10 years
Teaching Philosophy:
"I feel that the Suzuki method (mother tongue approach) is an exemplary way to teach, but that age-appropriate theory and pre-reading are also a necessary part of early instruction for keyboard instrument playing. I therefore take the best of both the Suzuki and traditional methods and integrate them in my teaching. I believe in life-long learning and have gained many insights from observing master piano teachers and attending music conferences. Since piano students often feel isolated from their peers who play in bands or orchestras, I like to give them the opportunity to play in ensembles to discover the joy of shared music-making. Finally, I truly believe that music has the capacity to enrich one's life, contribute to wellness, and nurture a beautiful heart that binds us together as fellow human beings."
---
Vanessa Morse
Instruments: Piano, Voice
Vanessa Morse has studied music from the very early age of 5. She began her studies at Claremont Community School of Music, and has since gone on to study music pedagogy studying voice and piano, with an emphasis in choral ensemble. Vanessa has been the director of her church choir, and is active in holding performances throughout the year. Vanessa holds a BA in Music Education from Cal State University Fullerton, and an MA in Choral Conducting from Azusa Pacific University.
---
Dr. Maria Perez
Instrument: Piano
Doctor of Musical Arts, University of Washington, Seattle
Master Of Music, Universtiy of Washington, Seattle
Bachelor of Music, Piano Performance, Eastman School of Music
Pianist Maria Perez-Goodman was born in San Juan, Puerto Rico, where she received her early musical training. Ms. Perez-Goodman earned a Bachelor's of Music degree in Piano Performance, with distinction, from the Eastman School of Music in Rochester, New York, and the Master's and Doctor of Musical Arts degrees from the University of Washington in Seattle. Her doctoral dissertation was on American pianist/composer Louis Moreau Gottschalk and his Caribbean-based compositions.
As soloist, Dr. Perez-Goodman has performed numerous recitals and a diverse repertoire of concerti. Her debut with the Orquesta Sinfonica de Puerto Rico was received with critical acclaim for her "captivating" and "bold" performances of Mendelssohn's Concerto in G minor and Gottschalk's Grande Tarantelle. Other orchestral solo appearances include the Claremont Symphony Orchestra, Puerto Rico Symphony Orchestra, Puerto Rico Conservatory Orchestra, Beach Cities Symphony, Pomona Concert Ensemble, Rancho Belago Symphony, Laguna Woods Symphony and the Hour of Power Orchestra of the Crystal Cathedral. Her performances of the Rachmaninoff Second Piano Concerto, Saint-Saens Concerto in G minor and Gershwin's Rhapsody in Blue with the Crystal Cathedral's Hour of Power Orchestra have been seen by an estimated 20 million viewers in 190 countries.
Her schedule of solo recitals has included performances in Barcelona, Madrid, London, Puerto Rico, Washington, New York, and California. She has been a featured musical guest in several television programs and live radio talk shows. As a collaborative musician, Mrs. Perez-Goodman's work has included performances with Martin Chalifour, Concertmaster of the LA Philharmonic, Lev Polyakin, Assistant Concertmaster of the Cleveland Orchestra, Tenor Daniel Rodriguez, Irish Tenor Ronan Tynan, Sopranos Ursula Kleinecke and Hayley Westenra, arranger Tom Scott, film composer John Debney, and world renowned Chinese Erhu player Ma XioaHui. Her recent recordings include a collection of Holiday songs arranged for piano solo "Crystal Reflections, Vol. II", and "Songs of Lee Hoiby" in collaboration with Soprano Ursula Kleinecke.
Sought after for her contributions to education, Dr. Perez-Goodman is asked regularly to adjudicate several music festivals, including the Music Teachers Association of California festivals, the Federation of Music Clubs Junior Music Festival, and the Chinese-American Piano Competition in Los Angeles. Dr. Perez-Goodman is a member of the Dominant Club of Los Angeles and has been on the faculty of the Claremont School of Music since 1993.
---
Christine Rhodes
Instrument: Piano
Bachelor of Music, Music Education, University of California Los Angeles
Member of MTAC, National Piano Guild
---
Irina Scolinos
Instrument: Piano
Program: Piano Program
Bachelor of music, musical pedagogy, Pedagogical College, Musical Pedagogical University, Moscow
Training in the Robert Pace keyboard method for preschool and adult beginners.
Certified in "Every Child Can" method at the Southern California Suzuki Institute.
Member of MTAC.
---
Ashlyn Wilson
Instrument: Piano
Program: Piano Program
Ashlyn holds a Bachelor of Arts degree in music from Central Washington University and has over 17 years of music experience. Although her private instruction focuses mostly on piano and voice, she has experience teaching the basic fundamentals of contemporary band instruments—such as acoustic guitar, bass guitar, ukulele, and drums—as well as songwriting techniques. During her education at Central, she became versed in a variety of solo and choral vocal styles, including jazz, opera, folk, classical, and theatre. Her performance experiences range from participation in university choirs and ensembles to community worship groups and solo artist shows. She currently sings and plays piano with the indie folk band Welcome Home in the greater Los Angeles area.

She believes that learning can and should be pleasurable. She also believes that a good lesson includes psychology and listening, and she promises to try to find the right way to work with each individual's learning style. Besides music, some of her hobbies include hiking, rock-climbing, cooking, and cuddling with her cat!
---
Svetlana Woloschuk
Instrument: Piano
Program: Piano Program
Piano
BM. Music College n. M. Lusenko. Poltava, Ukraine.
Studied Music Pedagogy, Music Theory & Harmony, Music History & Literature. Studied with Professor Elena Natalevich-Odessa Conservatory, Lubov Drobitko Kyev Conservatory. Has received various achievement awards for piano teaching in Ukraine. At CCSM, beginning Year 2000, students in Svetlana's studio participate in the Junior Music Festival under NFMC (National Federation of Music Clubs). Member of MTAC(Music Teacher's Association of California).
---
Ruisha Zhang
Instrument: Piano
Programs: Piano Program, Suzuki Piano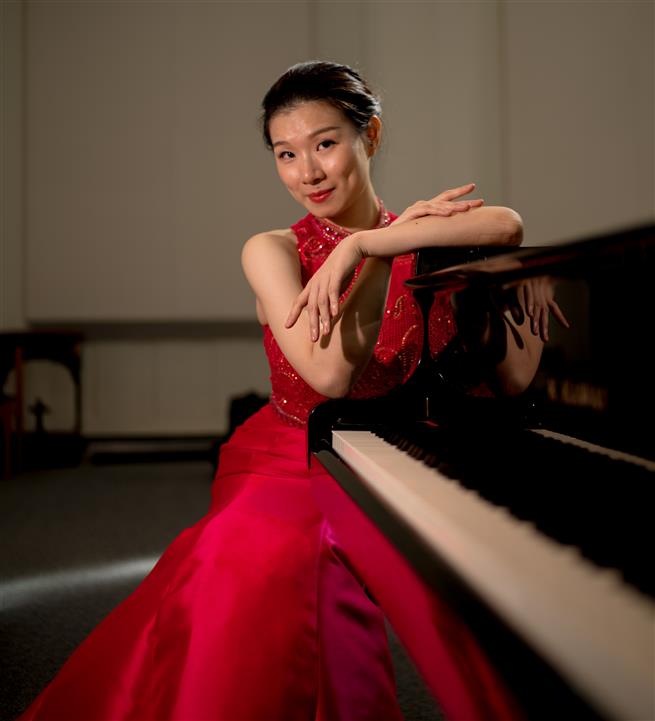 Piano
Master of Music, Westminster Choir College of Rider University
Mrs Ruisha Zhang has been active as a concert pianist and experiential piano teacher. She frequently participates in solo and chamber concerts internationally, including the venues in North America and China. She has studied piano pedagogy extensively and has set her students a high standard of performance skills as well as musicality. Mrs Zhang is currently studying her doctoral degree in piano performance in Claremont Graduate University. She earned her master degree in Piano pedagogy and performance in Westminster Choir College, NJ. She is the registered Suzuki teacher, the member of Dalcroze Society of America, the member of MTNA (Music Teachers National Association).